This was a unique opportunity to treat identical twins, who essentially look a little different / not identical, however on consultation and assessment, they wanted to look a bit more like each other. Their emotional journey together on this was incredibly rewarding for me as their treating Doctor and I am grateful for their trust and confidence in me.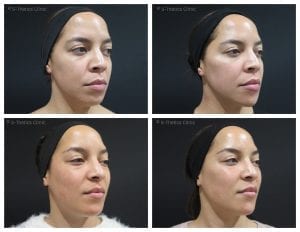 Unique Emotional Connection
This represented a unique opportunity for me to further understand and appreciate the powerful emotional connection between identical twins, and how their appearances influenced each other.
They didn't want to lose their identities together as twin sisters and reached a point whereby they decided that they would both like a light 'tweakment' to look and feel even better about their ageing, and wanted to have treatment at the same time.
Their goals were to look:
More contoured
Slimmer
More attractive
The treatment: A Full Face approach using Juvederm Voluma and Volux Facial Fillers:
​​Following a detailed consultation, assessment and treatment plan, I used Juvederm Voluma to add further structure and contour to the cheekbone area. Only small volumes are used per injection site however these injection sites are precisely defined using the very latest MD Codes, created by my mentor and Plastic Surgeon, Dr Mauricio de Maio.
The codes I used here include:
T1- Temple
CK1: Outer cheekbone
CK2: Highest point of projection on the cheekbone, known as The Beautification Point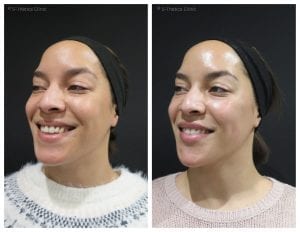 To add strength, definition and more contour along the jawline and chin, I used the latest launch product of the Juvederm range, Juvederm Volux, which launched this May worldwide, along these MD Codes injection points:
JW1: Angle of the jawline
C1: The chin crease to lengthen the face
C2: The angle of the chin to give more projection
I finally finished with Juvederm Volift to soften the smile and reduce the gummy smile which occurs due to excessive muscle movement of one of the smile elevation muscles, and the MD Code used here was:
NL1: Deep to the peak of the nasolabial fold (nose to mouth line)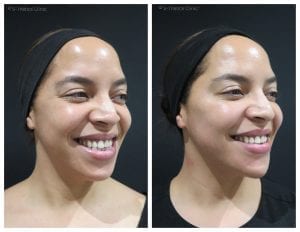 These injection points not only work to lift and contour facial profile, the assist in myomodulation of the muscles of facial expression. This takes into account the biomechanical concepts such as the balance of activity amongst opposing muscle groups and understanding how loss of its support due to the structural decrease in facial volume (bone and fat) play a strong part in facial ageing.
By addressing these areas using facial fillers we can restore a facial appearance to a more fresh and rejuvenated appearance whilst always maintaining natural looking results.
"We are so happy with our results"
"We are so happy with our results. It has given us the definition and contour we felt we were losing. Juvederm Volux has taken us back to where we want to be which is looking fresher, stronger and more empowered and we feel so confident showing off our new look.
Being able to have a facial filler treatment and look slimmer is just remarkable. Thank you Juvederm. And thank you Miss Balaratnam"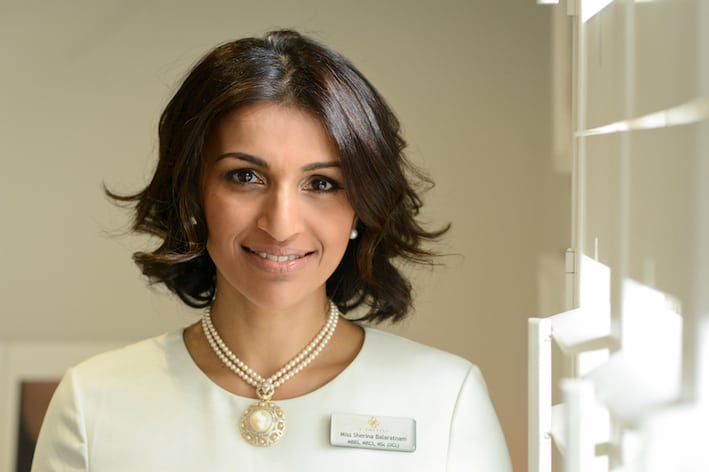 About Miss Sherina Balaratnam MBBS, MRCS, MSc (UCL), Surgeon and Cosmetic Doctor
Miss Sherina Balaratnam is a fully-qualified surgeon with extensive plastic surgical training.
She has devoted the last nine years of her medical career to specialising in the latest non-surgical cosmetic treatment innovations.
Her subtle and highly personalised approach to facial rejuvenation has earned Miss Balaratnam a place as one of the UK's leading non-surgical cosmetic specialists. She regularly trains other healthcare professionals in advanced injectable techniques and the consultation process.
Miss Balaratnam has been mentored by Dr de Maio for over 7 years now, since being part of the UK Allergan Faculty. As one of only a few hand-picked doctors chosen to represent Allergan as a "Local Country Ambassador" (LCA), she was amongst the first UK doctors to be trained on the MD Codes.
In February 2019, she was selected as 1 of the UK's "Top 5" Doctor's for dermal filler treatment in the prestigious Tatler Beauty & Cosmetic Surgery Guide".
About Facial Fillers
Facial fillers can be used to restore contour and youthful volume to the face. At S-Thetics we use the Juvederm range of facial fillers, which contain hyaluronic acid.
Often shortened to HA, it's a naturally occurring sugar that has incredible moisturising powers, thanks to its amazing ability to hold water. In fact, HA can bind up to 1,000 times its own weight in water. You'll find more than 50 per cent of all the body's HA in the skin, where, in both the top layers and lower layers, it helps to maintain moisture levels. But it also cushions and lubricates joints, and it even helps your eyeballs to keep their shape.
At S-Thetics Clinic, we take a 'less is more' approach, which means we can create a natural look that ensures your skin will glow and all while respecting the individuality of your face.

To find out more about how Juvederm facial fillers could benefit you, please contact S-Thetics Clinic on: