The Fire & Ice Facial Treatment
The Fire & Ice is a results led clinical facial treatment designed to resurface the skin, treat problematic skin, reduce fine lines and encourage cellular renewal.
A multi-step treatment with two professional treatment masques combined with carefully selected iS Clinical products to optimise results, the Fire & Ice is a treatment that bridges the gap between a mild facial and an invasive peel, all with no downtime.
The Fire & Ice facial treatment has been the top-selling treatment each year for the last 12 years at the Four Seasons, Beverley Hills.
The Fire & Ice is a firm favourite of Gwyneth Paltrow and Halle Berry and uses iS Clinical products, used by Rosie Huntington-Whiteley, Shay Mitchell, Jessica Alba and more.
The Fire & Ice can also help clear acne and improve acne scarring, as part of a treatment program, in conjunction with our cosmeceutical skincare products.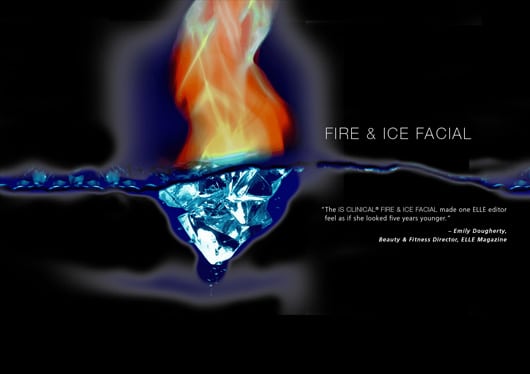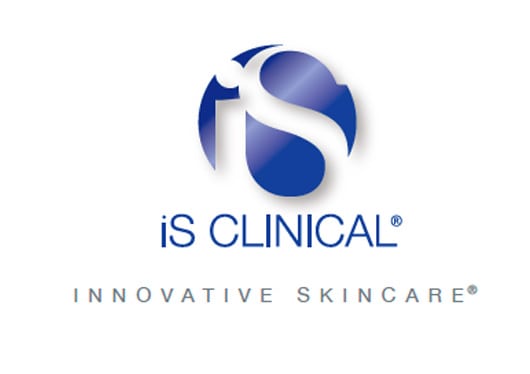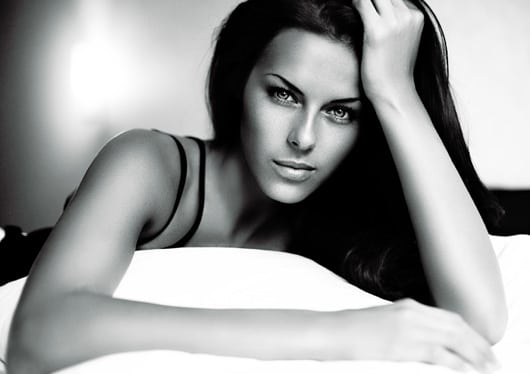 What happens during the treatment?
The "Fire" portion of the treatment is an Intensive Resurfacing Masque clinically formulated with 18% unbuffered glycolic acid, citric acid, lactic acid, malic acid, vitamin B3, retinol and potent antioxidants, including green tea extracts.
The treatment is applied for five minutes and is designed for use on the face, neck and décolleté – with a strong fragrance of cinnamon. The warmth that comes with this part of the facial is pleasant and tingly, and lasts for two to three minutes.
The "Ice" portion is a rejuvenating, cool, soothing and intensively hydrating masque with hyaluronic acid, Japanese green tea extracts, aloe vera gel, liquorice extracts, rosemary extracts and grape seed extracts.
This second masque cools the initial peel to leave the skin invigorated and glowing and is applied for about 5 minutes. After a final cleanse, a moisturising serum and a strong sunscreen are applied to the face.
What are the results?
The Fire & Ice treatment gives the skin a deep cleanse, leaving it with a beautiful glow. Your skin will feel plumper, smoother and more hydrated, leaving you ready to face the day.
This treatment is great as a one-off skin rejuvenation treat, but for more intensive and long-lasting results, we recommend a program of 6 to optimise your skin.
"This treatment is more like a chemical peel than a facial as it gives deep, long-lasting results without any downtime.
Because these products work at deeper levels in the skin, they truly target wrinkles, pigmentation and problems with tone and texture – leaving your skin tighter, firmer and positively glowing with health and vitality."
Is this treatment right for me?
This will be discussed at your consultation and following your VISIA digital skin analysis.
The Fire & Ice treatment is suitable for all skin types, however if you are using any retinol or glycolic products, these should be stopped for one week before and after treatment. If you are using Roaccutane, this should be stopped for six months prior to having the Fire & Ice treatment.
Are there any side effects?
Mild redness may be experienced by a few patients but generally you can return to your daily activities straight away. As your skin has been newly resurfaced, we recommend using a mild non-abrasive cleanser or other mild product for five days following the procedure and also wear sunscreen and avoid prolonged or direct sun exposure.
Testimonials
We take pride in delivering the very best treatments to our patients and tailoring our approach to each individual. Here's what some of our patients have been saying about us:
"Since I've been using iS clinical my skin regime has completely changed. I have never known a skin product to benefit my skin in so many ways." Katie, 19, Beaconsfield
"I have had EndyMed 3DEEP Tightening and Contouring on my face and body. The results are incredible and my skin felt tighter and firmer straight away. Three days later my skin is soft and smooth. With such a sophisticated device, a programme of EndyMed 3DEEP is certainly worth it." Elouise 29, High Wycombe
"Beautiful clinic, run by extremely knowledgeable, professional, warm, friendly people. Incredibly relaxing, wonderful results – highly recommend Miss Sherina Balaratnam and her team." Jane, 40, Middlesex
"The EndyMed is such a fabulous treatment that I can't recommend enough. I walked out of the clinic not only glowing, but radiating from the inside out… it felt fabulous!" Annas, 39, Beaconsfield
"I would like to say a huge thank you to Sherina and her team for a wonderful experience – they truly are experts in their field." – Tracey, 36, Berkshire."
"I had the Fire and Ice treatment at the S-Thetics clinic. Just one treatment had improved the over all appearance of my skin and reduced my pigmentation, much to my delight." Gail, 54, Beaconsfield
"Sherina really listened to what I wanted to achieve from my treatments – so I opted for some facial fillers to lift and refresh my cheeks and eyes, as well as shaping my lips. Sherina made the whole process very easy and comfortable and I am absolutely delighted with the results. I couldn't recommend her highly enough."
Julia, 32, from Beaconsfield
"The Fire & Ice treatment is absolutely amazing and refreshing. I walked out of the S-Thetics clinic glowing and feeling fantastic and that was not the end… The result got even better the following day. My skin felt clear, clean and radiant." Theresa, 40, Gerrards Cross
"Thank you Miss Balaratnam for taking your time with me, and using your extraordinary knowledge and skills to help rejuvenate my face and my confidence. All I want is to look the best that I can for my age and I could not be more delighted." Carole Anne, 70, Wiltshire
"Sherina is one of the best skincare doctors I know! I highly recommend all that Sherina offers and she has the best bedside manner when working with patients also." Joanne Berry, San Diego
treatments
Click on the links below to find out more about the range of treatments available at S-Thetics.