We are excited to announce S-Thetics Clinic have been awarded the iS Clinical 'World Stars' award for being the UK & Ireland's top clinic, for the third year running.
Top Clinic UK & Ireland
The Award was presented in the UK by Kim Saunders, Head of Partner Development and in Kuala Lumpur, Malaysia by Katherine Medina Executive Director of International Sales, and Mark Perez-Nelson Manager of International Business Strategy and Development.
Over 110 Countries
With a global footprint on every continent, the iS Clinical award is presented to a select number of clinics from thousands worldwide, who have consistently set a high standard of clinical excellence, delivering consistent, exceptional patient results.

Esteemed Visitors
We have been honoured to have been visited in Beaconsfield by the co-founders of iS Clinical, President & CEO, Bryan Johns and Vice President & COO Alec Call and also Clinical Director, Dr Charlene DeHaven, (M.D., FACEP)
'In Conversation With…'
…Dr Charlene DeHaven, discussing our shared passion for pharmaceutical-grade skincare and Dr DeHaven's extensive experience in the world of cosmeceuticals:
https://youtu.be/JJWwFJXiR6s
Unique Treatment Protocols
At S-Thetics Clinic, we are renowned for our unique treatment protocols, combining iS Clinical skincare with treatments ranging from medical grade facials, lasers and energy based devices such as radio frequency to optimise and enhance your at-home results.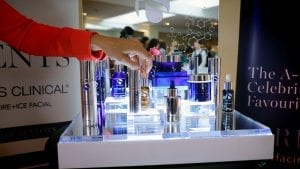 To schedule your skincare consultation or to find our more about our range of treatments, please contact S-Thetics Clinic on: 01494 670 990 or info@sthetics.co.uk or click here to shop our online store.