You are cordially invited to our
Exclusive Winter Aesthetics Event
'Beyond the Facelift'
Wednesday 20th November 2019
at Hedsor House
____________________________
Are you interested to find out more about how to achieve your ultimate aesthetic goals?
Miss Sherina Balaratnam and the S-Thetics Clinic team invite you to join us for a truly unique opportunity to learn more about the very latest in advanced medical aesthetics.
Featuring immersive live treatment demonstrations, presentations and educational experiences covering the full range of aesthetic treatments for the skin, face and body, from some of the world's leading aesthetic brands.
Click here to secure your tickets
___________________________________
The Venue
Hedsor House
Hedsor Park, Taplow
Buckinghamshire SL6 0HX
www.hedsor.com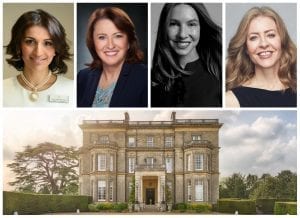 The Date
Wednesday 20th November
Afternoon session: Midday to 4pm with talks commencing from 1pm
Evening session: 5pm to 9pm with talks commencing from 7pm
___________________________________
The Event
– Keynote presentations from Miss Balaratnam and Dr DeHaven on skin health, epigenetics, the science of skin and facial ageing and how we treat these at S-Thetics using a blend of topical skincare, energy based technologies and facial fillers
– Unique insights into the latest global aesthetic and wellness trends from leading beauty journalists Alice Hart-Davis and Francesca White
– Multiple live treatment demonstrations, immersive experiences and mini-consultations throughout the event, including:
___________________________________
✅ HydraFacial World Tour
✅ iS Clinical Cosmeceutical Skincare
✅ 'Beauty Decoded' – Juvederm facial fillers
✅ Icon & Picosure lasers
✅ SculpSure Body Contouring
✅ Endymed radiofrequency skin tightening
✅ VISIA digital skin imaging
✅ EMSculpt muscle building & regeneration
✅ Totally Derma Nutraceuticals
✅ Oxygenetix Foundation
___________________________________
Why attend?
✅ Find out more about the very latest in advanced aesthetic treatments for the skin, face and body, how they work and how you could benefit from treatment
✅ Meet the S-Thetics Clinic team and the experts from some of the worlds leading aesthetic brands
✅ Discover more about our multi-award winning range of treatments and technologies
✅ Live treatment demonstrations throughout the day
✅ Explore the different treatment options available and discuss what's right for you with our team of experts
✅ Complimentary VISIA skin consultations
✅ An ideal opportunity to bring a friend, or two, who would like to discover more about aesthetic treatments
✅ Access to exclusive 'one day only' event offers
___________________________________
Click here to secure your tickets
__________________________________
We are delighted to introduce our prestigious international panel of guest speakers:
i) Miss Sherina Balaratnam MBBS, MRCS, MSc (UCL) Surgeon and Cosmetic Doctor
A highly experienced former NHS surgeon with a background in reconstructive and burns plastic surgery and a qualified Doctor for over 21 years.
As the founder and Medical Director of the multi-award winning S-Thetics Clinic in Beaconsfield, Buckinghamshire, she specialises in regenerative aesthetic treatments for the skin, face and body.
In 2019 she was named one of the UK's "Top 5 Doctors" for facial filler treatment in the prestigious Tatler 'Beauty & Cosmetic Surgery Guide.'
___________________________________
ii) Dr Charlene DeHaven (M.D., FACEP), Global Clinical Director of iS Clinical skincare.
Dr. DeHaven has written extensively on ageing related issues, and has developed and implemented anti-ageing medical protocols for both the Longevity Institute and the Kronos Clinics, pioneering research in hormone replacement therapy and oxidative stress management.
Dr DeHaven is widely acknowledged as a world leading expert on skin health and skin ageing, and joins us directly from the United States.
___________________________________
iii) Alice Hart-Davis (afternoon session)
Alice is a UK-based beauty journalist and author, and the creator of www.thetweakmentsguide.com, a website that explains the complexities of non-surgical cosmetic procedures such as Botox and injectable fillers.
She has worked widely across the beauty industry and the aesthetics industry for the past 20 years, regularly writing about skincare, wellbeing and tweakments for publications including the Daily Mail, The Times, and Good Housekeeping.
___________________________________
iv) Francesca White (evening session)
Francesca is Tatler's Health & Beauty Editor-at-Large and editor of the Tatler Beauty & Cosmetic Surgery Guide.
With over ten years of experience in the aesthetics industry, she is passionate about opening up new dialogues around modern cosmetic procedures.
She is also the founder and curator of The Beauty Triangle, a platform designed to educate and empower consumer audiences on all aspects of their health and wellbeing.
___________________________________
Click here to secure your tickets
___________________________________
Places are limited and will be made available on a first come, first served basis.
* All attendees will receive over £150 in products and vouchers via a goodie bag, containing an iS Clinical skin prep kit worth over £50 and £100 in treatment vouchers, as well as unique access to 1-day only offers.
___________________________________
We look forward to welcoming you to Hedsor House.

Miss Sherina Balaratnam, MBBS, MRCS, MSc (UCL)
Medical Director, S-Thetics Clinic