Introducing the Intraceuticals 'Oxygen Facial' at S-Thetics Clinic
Hollywood A-listers are renowned for having good skin; I mean, when was the last time you saw a super star walking down the red carpet with red blotches and eyebags?
Considering that (despite what the magazines say) many of these celebrities face hectic schedules, long work hours and consistent pressure from the media, you'd expect them to at least show some stress on their skin.
After all, it's well known that, for the busy city worker, the stress of commuting, pollution and lack of sleep can have a serious effect on how tired our skin looks.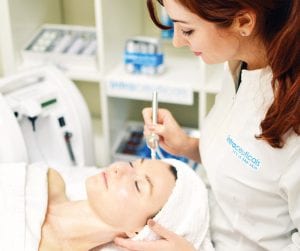 So, how are the stars combating it? And is it attainable – without undergoing invasive skin treatments?
Simple answer? Yes, it most certainly is.
Among many of the results-proven, non-invasive treatments that we offer here at the S-Thetics Clinic, which all give our patients star-worthy results, we are thrilled to introduce the Intraceuticals 'Oxygen Facial' for the first time.
This latest treatment is already causing waves in the skincare industry and the media as a revolutionary facial treatment, which leaves skin vibrant and youthful – with the likes of world-class A-listers Madonna, Jennifer Lopez, Katie Perry, Fergie and Justin Timberlake among those utilising its benefits before hitting the red carpet.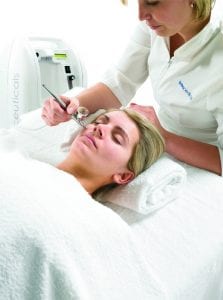 So, how does it work?
The Oxygen Facial is the Intraceuticals Infusion system, based on technology which combines hyperbaric oxygen with a special serum in order to regenerate skin and give it a fresh, healthy glow.
Using one of four serums, which are rich in hyaluronic acid, vitamins and antioxidants, in combination with oxygen, the skin is naturally and instantly lifted, smoothing fine lines and wrinkles.
This is because hyaluronic acid is a key element of skin rejuvenation, boosting collagen levels and improving firmness, elasticity and smoothness. Within this particular treatment, low-molecular-weight form hyaluronic acid is used to penetrate into deeper skin layers together with the active ingredients, while the high-molecular-weight form is used to bind and maintain the moisture collected.
Read more about the benefits of hyaluronic acid in our previous blog, here.
The oxygen element is just as important, though – a natural bactericide, it helps to destroy anaerobic bacteria, as well and cool and calm the skin.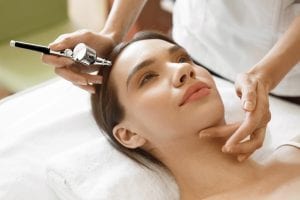 A key advantage of this system is that we can tailor the treatment to the patient's skin needs, with the four infusions:
Rejuvenate – for rejuvenation and smoothing effect
Atoxelene – for reducing lines around the eyes and lips
Opulence – for brightening and equalising colour
Clarity – for acne and inflammations
What can I expect during treatment?
The treatment is completely painless and described as feeling like a 'gentle stroking on the face' (just sit back and relax – there's no wincing here).
Following a full VISIA digital skin analysis, the recommended serum is applied, before a handpiece glides over the face, using active oxygen under pressure to press it into the skin.
The whole treatment lasts approximately 1 hour, with the first effects of smoother skin, improved hydration and shallower wrinkles being felt immediately after. The full effects will then be visible the following day, lasting almost two weeks.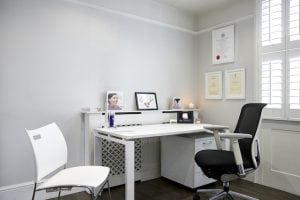 To schedule your Intraceuticals Oxygen Facial or to find out more, please contact S-Thetics Clinic on: