Thank you to the Aesthetics Journal for interviewing our medical director in your February edition on how we approach the treatment of men with non-surgical body contouring technologies:
"When consulting men I tend to find they are less nervous and self-conscious as a whole, and more directive in approach; they know exactly what they want to target and what results they expect, while wanting to know what devices we have, how these work, the scientific data behind the technologies and evidence of our results, which I'm delighted to say we have."
Miss Sherina Balaratnam, MBBS, MRCS, MSc (UCL), Surgeon and Cosmetic Doctor and Medical Director of S-Thetics Clinic.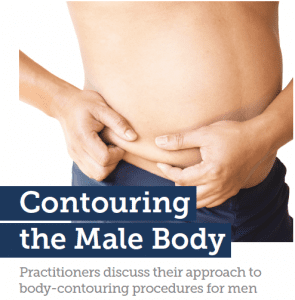 At S-Thetics Clinic we use advanced, FDA-approved technologies for non-surgical body contouring.
EMSculpt is the world's only non-invasive, clinically proven treatment, that builds muscle and burns fat. EMSculpt treats:
i) Abdomen – giving an overall improvement of abdominal tone, strengthening of the abdominal muscles and a firmer abdomen.
ii) Buttocks – giving improved strengthening, toning and firming of buttocks.
The 25-minute procedure works by using light-based technology to permanently destroy up to 24% of treated fat in problem areas where fat may prove stubborn to diet and exercise.
Treatment areas include the flanks, Abdomen, Inner and Outer Thighs and Back.
Find out more about SculpSure.
The Aesthetics Journal is the UK's leading monthly journal for medical aesthetic professionals.

To find out more about our range of non-surgical body contouring treatments or to schedule your consultation, please contact S-Thetics clinic on: