VISIA Complexion Analysis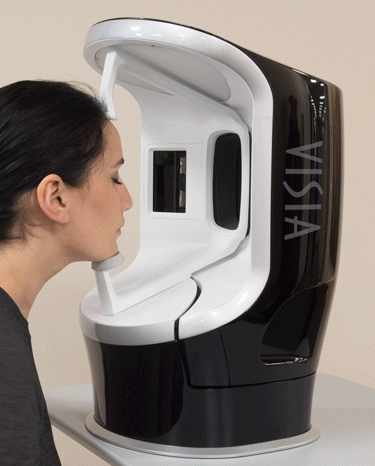 VISIA is a state-of-the-art digital imaging system which looks at eight key areas of your complexion to determine where your skin might need some extra help, as well as where your skin is already doing well:
1. Spots are typically brown or red skin lesions including freckles, acne scars, hyper-pigmentation and vascular lesions. Spots are distinguishable by their distinct colour and contrast from the background skin tone.
2. Pores are the circular surface openings of sweat gland ducts. Due to shadowing, pores appear darker than the surrounding skin tone and are identified by their darker colour and circular shape.
3. Wrinkles are furrows, folds or creases in the skin, which increase in occurrence as a result of sun exposure, and are associated with decreasing skin elasticity.
4. Texture is primarily an analysis of skin smoothness. Texture measures skin colour and smoothness by identifying gradations in colour from the surrounding skin tone, as well as peaks and valleys on the skin surface that indicate variations in the surface texture.
5. Porphyrins are bacterial excretions that can become lodged in pores and lead to acne. Porphyrins fluoresce in UV light and exhibit circular white spot characteristics.
6. UV Spots occur when melanin coagulates below the skin surface as a result of sun damage. UV spots are generally invisible under normal lighting conditions. The selective absorption of the UV light by the epidermal melanin enhances its display and detection by VISIA.
7. Red Areas represent a potential variety of conditions, such as acne, inflammation, Rosacea or spider veins. Blood vessels and haemoglobin contained in the papillary dermis, a sub-layer of skin, give these structures their red colour, which is detected by the RBX Technology in VISIA. Acne spots and inflammation vary in size but are generally round in shape. Rosacea is usually larger and diffuse compared to acne, and spider veins usually are short, thin and can be interconnected in a dense network.
8. Brown spots are lesions on the skin such as hyper-pigmentation, freckles, lentigines, and melasma. Brown Spots occur from an excess of Melanin. Melanin is produced by melanocytes in the bottom layer of the epidermis.
IntelliFlash®, cross-polarized and UV lighting are used to record and measure these surface and subsurface skin conditions.
By providing you with such a comprehensive digital skin analysis, we are able to tailor your treatments and skincare products to your unique skin conditions and to maximise on both the repair and correction of your skin health.
The VISIA also allows us to measure and monitor the improvements in the condition of your skin over time, enabling you to also see the results of your treatments in the most scientific and measurable way.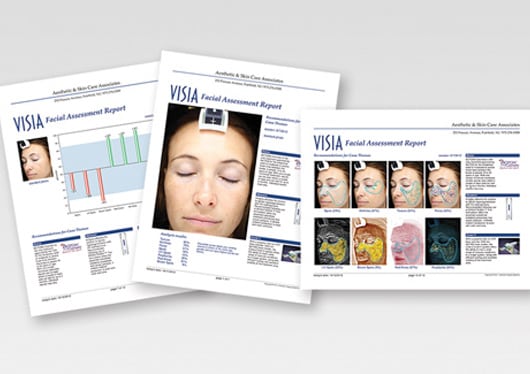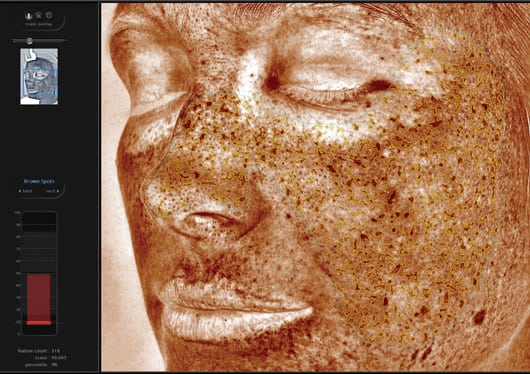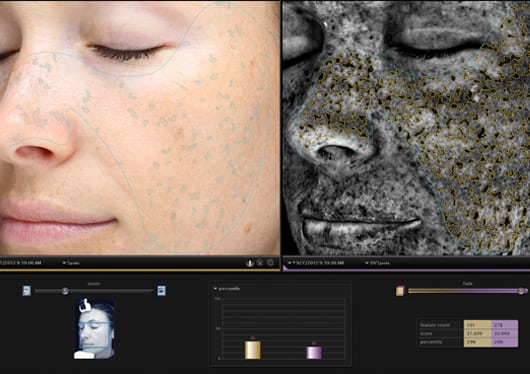 How it works
VISIA takes images of your face from three precise angles which not only helps you see what is happening now, but also means you can accurately review how your treatment results are progressing over time.
Using VISIA technology, we can analyse your skin condition from the superficial level such as acne spots and blemishes, to any deep underlying damage, such as ultraviolet damage and pigmentation. In addition, VISIA can assess the presence of expressive and static lines and wrinkles, as well as any redness or build-up of bacteria (porphyrins) within the skin.
VISIA also provides an analysis to your 'skin age' and helps you understand how your results rank within your age group and skin category. This helps forecast which areas are prone to age most and gives precision treatment advice to address any concerns about how your skin may change over time.
VISIA measures:
Spots (pigmentation)
Wrinkles and skin texture
Pores
UV spots and brown spots
Red areas e.g. rosacea, spider veins
Porphyrins (pores containing build-up of bacteria)
Once your personalised complexion analysis is complete, we can begin building your bespoke skincare treatment plan to effectively target any areas of concern.
Testimonials
We take pride in delivering the very best treatments to our patients and tailoring our approach to each individual. Here's what some of our patients have been saying about us:
"Since I've been using iS clinical my skin regime has completely changed. I have never known a skin product to benefit my skin in so many ways." Katie, 19, Beaconsfield
"I have had EndyMed 3DEEP Tightening and Contouring on my face and body. The results are incredible and my skin felt tighter and firmer straight away. Three days later my skin is soft and smooth. With such a sophisticated device, a programme of EndyMed 3DEEP is certainly worth it." Elouise 29, High Wycombe
"Beautiful clinic, run by extremely knowledgeable, professional, warm, friendly people. Incredibly relaxing, wonderful results – highly recommend Miss Sherina Balaratnam and her team." Jane, 40, Middlesex
"The EndyMed is such a fabulous treatment that I can't recommend enough. I walked out of the clinic not only glowing, but radiating from the inside out… it felt fabulous!" Annas, 39, Beaconsfield
"I would like to say a huge thank you to Sherina and her team for a wonderful experience – they truly are experts in their field." – Tracey, 36, Berkshire."
"I had the Fire and Ice treatment at the S-Thetics clinic. Just one treatment had improved the over all appearance of my skin and reduced my pigmentation, much to my delight." Gail, 54, Beaconsfield
"Sherina really listened to what I wanted to achieve from my treatments – so I opted for some facial fillers to lift and refresh my cheeks and eyes, as well as shaping my lips. Sherina made the whole process very easy and comfortable and I am absolutely delighted with the results. I couldn't recommend her highly enough."
Julia, 32, from Beaconsfield
"The Fire & Ice treatment is absolutely amazing and refreshing. I walked out of the S-Thetics clinic glowing and feeling fantastic and that was not the end… The result got even better the following day. My skin felt clear, clean and radiant." Theresa, 40, Gerrards Cross
"Thank you Miss Balaratnam for taking your time with me, and using your extraordinary knowledge and skills to help rejuvenate my face and my confidence. All I want is to look the best that I can for my age and I could not be more delighted." Carole Anne, 70, Wiltshire
"Sherina is one of the best skincare doctors I know! I highly recommend all that Sherina offers and she has the best bedside manner when working with patients also." Joanne Berry, San Diego
treatments
Click on the links below to find out more about the range of treatments available at S-Thetics.