I hope you, your family and friends continue to be safe and well during this time.
Your safety and wellbeing is our priority, and we have been working hard to implement new protocols for our patients and staff to prioritize your personal safety, without compromising the very special S-Thetics Clinic experience.
As a Surgeon-led clinic with an extensive combined background in the NHS amongst our team of Medical Practitioners, we have considerable experience with infection control processes, measures and best practice.
We have conducted a full, updated risk assessment in accordance with Government guidelines and have made changes to our clinic protocols and layout to ensure we can safely welcome you back to the clinic.
Please find a short video illustrating some of these changes to your patient journey at S-Thetics Clinic:
Before Your Appointment
We will contact you in advance of your appointment, either via email or telephone, to confirm you do not have any symptoms or feel unwell.
This will also include us sending you a screening questionnaire, which we would ask you to carefully review.
We would ask that you arrive on time for your appointment, you will not be required to arrive 15minutes prior (to lessen your waiting time in the clinic) (only arrive early if you require a topical anaesthetic pre-treatment).
A booking deposit will be required to secure your appointment.
Due to the enhanced measures in clinic we would ask that you allow additional time for your appointment.
Entering the Clinic
We have installed a one-way system in the clinic, with a separate entrance and exit door. Please arrive to the normal main entrance.
We will check your temperature on arrival using a contactless temperature scanner.
Please use the hand sanitiser provided on your arrival.
Please observe social distancing rules and, where feasible, maintain 2 metres distance.
Please arrive wearing your own face mask or we will provide one to you, which must be worn inside the building.
All patients will be required to attend their appointments alone.
Please try to arrive without makeup (if you are having a facial treatment).
Please arrive with minimal personal items.
We have temporarily removed all refreshments, so would ask that if you require refreshment you bring your own bottle of water.
Our team will be wearing appropriate PPE, including masks, visors, gloves and surgical gowns.
Departing the Clinic
Our team will guide you to our separate exit door.
As we are not currently providing printed marketing materials, we will instead email you any relevant follow-up materials.
Further Processes, Protocols and Physical Changes to the Clinic Include:
Enhanced cleaning protocols including regular cleaning of all common touchpoints such as door handles, toilets, light switches and other common areas.
We have Installed HEPA filtration systems to enhance air quality.
Installed safety screens at reception.
Patient consultations, follow up appointments and skincare reviews are being conducted via Zoom.
Temporarily removed all printed marketing materials and media from communal areas.
Our new online store has now launched, enabling you to have all of your skincare, Totally Derma and even Deesse LED masks delivered directly to your home.
Reduced seating in our main waiting room, however we have three further seating areas for your comfort, which our team will guide you towards if necessary.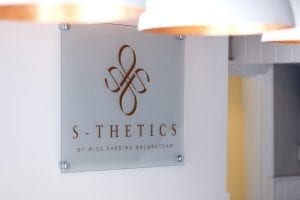 Ultimately the decision is yours, and if you choose to pause your treatment at this time, we of course completely appreciate your individual preference and can assist you with rescheduling.
On behalf of my team, I would like to thank you again for your loyalty and trust and we are all looking forward to welcoming you back to the clinic.

Miss Sherina Balaratnam, MBBS, MRCS, MSc (UCL)
Medical Director, S-Thetics Clinic
To receive our full updates, please visit our website at www.sthetics.co.uk and sign up to receive our newsletter.