We reveal struggles of an ageing body and what you can do about it with EMSculpt.
Ageing is an inevitable part of life – and, for some, so is weight gain.
Hovering on the horizon as we get older, many of us seem to be facing a daily battle with calorie-counting, making sure we get in that extra work-out or avoiding the office biscuits at any cost.
There are a number of reasons for this build-up of fat as the years pass, from fluctuating hormones or the loss of muscle, to a poor lifestyle and slowing metabolic rate.
For men, it could be as testosterone levels drop – a key part of keeping off those extra pounds, storing fat in the right way and helping to build muscle.
For women, it could be the decline of progesterone and oestrogen; while oestrogen contributes to fat formation, progesterone would normally counteract this by keeping the weight off.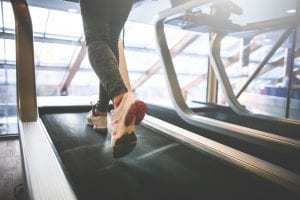 And, yes, that means that one jog a week probably isn't cutting it.
Here at S-Thetics Clinic, we always advise our patients to maintain a healthy lifestyle, eating the right foods and making sure they are getting their daily exercise.
However, the good news is that there are increasingly more options to address the issue in-clinic, too.
This unique technology is revolutionising the way we tackle fat as aesthetics practitioners – the only FDA-approved device to simultaneously reduce fat and build muscle at the same time.
That means even those who have less than an inch of pinchable fat can use this system to help tone up.
Using High-Intensity Focused Electro-Magnetic (HIFEM®) technology, the EMSculpt penetrates through the skin to impact muscle tissue, increasing muscle density and volume but also triggering a rapid metabolic reaction that safely and effectively destroys fat cells.
Just one 30-minute procedure is the equivalent of up to 20,000 sit-ups or squats – and it's totally pain-free.
Treating the abdominal area and buttocks (you got it, the first non-invasive butt-lift procedure), this treatment can give patients a 19% fat reduction and increase average muscle mass by up to 16%, with no downtime.
Check out the answers to some of the burning questions you've probably been asking yourself:
How many treatments will I need?
Patients will generally require four treatments over a two-week period, however, everyone is different. Our highly-skilled team will discuss a specific treatment plan during your consultation.
What does it feel like?
The procedure feels like an intensive workout – without doing any of the work. So, you can just lay back and relax during treatment.
Is it safe?
Thanks to EMSculpt's unique HIFEM® technology, it is non-ionizing, non-radiating and non-thermal – meaning it is an incredibly safe system to use with minimal risks.
What does 'FDA-approved' mean?
The FDA (the US Food and Drug Administration) measures and tests drugs and medical appliances for medical use. If a product is approved, it means the item outweighs the potential risks for its planned use.
Where do I sign up?
As the 1st clinic in Europe to be trained on EMSculpt and being just 1 of 4 clinics to launch the device in Europe, S-Thetics are offering patients an exclusive promotion, contact us to find out more.
For more information or to book your EMSculpt consultation, contact us on 01494 670 990 or info@sthetics.co.uk