Perk
Introducing the HydraFacial Perk™, the world's first hybrid facial to merge a professionally delivered in-clinic exfoliating treatment that includes take-home products to enhance your skin benefits.
Whether you're in the mood to boost lips, replenish the eye area, or give your face that instant glow, Perk is the professionally delivered treatment that you can take home too.
With Perk, you get immediate results and long-lasting benefits that fit perfectly into your daily life.
Step 1 – Professionally delivered treatment
Receive your professionally delivered treatment to quickly remove the dead skin cells while simultaneously replenishing vital antioxidants and nutrients.
Step 2 – Take home products
Take home the Perk applicators from your treatment to enhance benefits and give your skin an added boost anytime.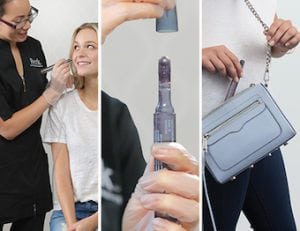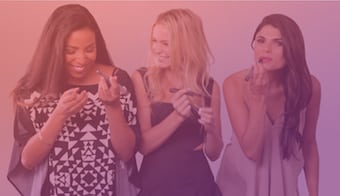 How does Perk work?
PerkTM uses a unique hybrid system with roller-flex technology to gently remove surface layer dead skin cells and impurities while delivering vital antioxidants.
Pores are gently flexed as the roller ball embeds nutrients, ensuring absorption and revealing a fresh new you. The best part? You receive the same applicator used in your treatment, so you take that refreshing serum with you wherever you go.
How long does a Perk treatment take?
With Perk, our philosophy is healthy, radiant results, in minutes. That's why each Perk service is designed to be performed in less than 10 minutes. If you choose all three services, you'll be out the door in less than 30 minutes.
Does a Perk treatment hurt?
Not at all. A Perk treatment is a very gentle, liquid exfoliation combined with a light pressured vacuum suction.
Will a Perk treatment leave me red and/or make me break out?
Depending on your skins' level of sensitivity, skin might be a little rosy following a Perk treatment, but this will subside quickly. Because you are receiving an exfoliation combined with potent performing ingredients, this may cause the skin to turn rosy.
You should not experience break-outs following a Perk treatment. Be gentle with your skin afterwards; it is not recommended to use any harsh exfoliators for about a week after treatment.
Are Perk take-home vials included in the price of the treatment?
Yes. With Perk, it's all about the 'cleanse with benefits'. Your deep cleansing service automatically includes take-home applicator that should last you up to 30 days.
For each service you purchase, the same vial used during treatment is yours to keep and take-home to extend nourishing benefits.
How often should I get a Perk treatment?
We recommend receiving a Perk treatment every 30 days to enhance and maintain the health of your skin; this is also around the time where your take-home serums will be running low.
However, Perk is gentle enough to receive weekly, as long as you are not receiving chemical peels or any other types of aggressive exfoliation treatments in conjunction with Perk treatments.
Testimonials
We take pride in delivering the very best treatments to our patients and tailoring our approach to each individual. Here's what some of our patients have been saying about us:
"Since I've been using iS clinical my skin regime has completely changed. I have never known a skin product to benefit my skin in so many ways." Katie, 19, Beaconsfield
"I have had EndyMed 3DEEP Tightening and Contouring on my face and body. The results are incredible and my skin felt tighter and firmer straight away. Three days later my skin is soft and smooth. With such a sophisticated device, a programme of EndyMed 3DEEP is certainly worth it." Elouise 29, High Wycombe
"Beautiful clinic, run by extremely knowledgeable, professional, warm, friendly people. Incredibly relaxing, wonderful results – highly recommend Miss Sherina Balaratnam and her team." Jane, 40, Middlesex
"The EndyMed is such a fabulous treatment that I can't recommend enough. I walked out of the clinic not only glowing, but radiating from the inside out… it felt fabulous!" Annas, 39, Beaconsfield
"I would like to say a huge thank you to Sherina and her team for a wonderful experience – they truly are experts in their field." – Tracey, 36, Berkshire."
"I had the Fire and Ice treatment at the S-Thetics clinic. Just one treatment had improved the over all appearance of my skin and reduced my pigmentation, much to my delight." Gail, 54, Beaconsfield
"Sherina really listened to what I wanted to achieve from my treatments – so I opted for some facial fillers to lift and refresh my cheeks and eyes, as well as shaping my lips. Sherina made the whole process very easy and comfortable and I am absolutely delighted with the results. I couldn't recommend her highly enough."
Julia, 32, from Beaconsfield
"The Fire & Ice treatment is absolutely amazing and refreshing. I walked out of the S-Thetics clinic glowing and feeling fantastic and that was not the end… The result got even better the following day. My skin felt clear, clean and radiant." Theresa, 40, Gerrards Cross
"Thank you Miss Balaratnam for taking your time with me, and using your extraordinary knowledge and skills to help rejuvenate my face and my confidence. All I want is to look the best that I can for my age and I could not be more delighted." Carole Anne, 70, Wiltshire
"Sherina is one of the best skincare doctors I know! I highly recommend all that Sherina offers and she has the best bedside manner when working with patients also." Joanne Berry, San Diego
treatments
Click on the links below to find out more about the range of treatments available at S-Thetics.