Microneedling
Microneedling stimulates your skin so that it will regenerate and repair itself naturally, resulting in smoother, brighter, younger and healthier looking skin.
It is used as a key treatment in rejuvenating skin with the following conditions:
Acne scars
Photo-damaged and ageing skin
Facial and décolleté lines and wrinkles
Stretch marks
Hand rejuvenation
During medical micro-needling tiny needles penetrate the skin which activates processes in your cells which also occur after injuries.
The body detects the puncture of the needles as small injuries in the skin which triggers a healing process. Treated cells release growth factors, which stimulate the bodies natural collagen production. This increased collagen level leads to an improvement of your skin's appearance.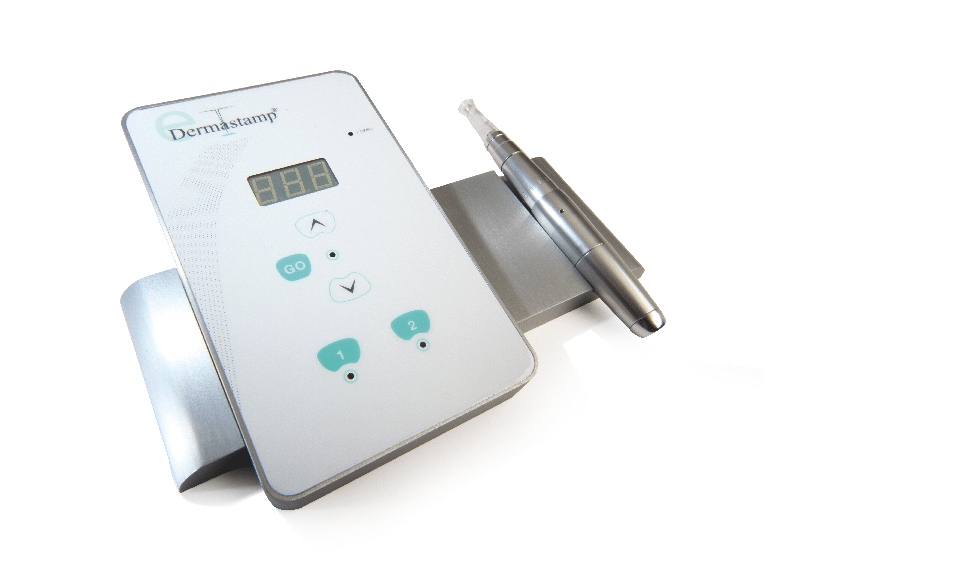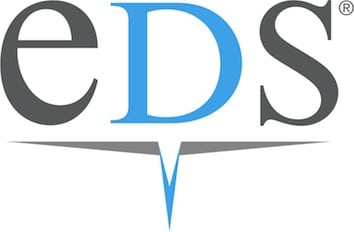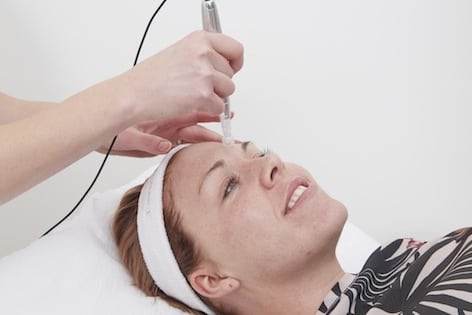 What are the results?
Following the procedure your skin will start to naturally regenerate and repair itself, working below the surface in the dermis. This will take some time as new collagen is formed, new skin cells are generated and the dermis layer is rejuvenated.
It can take up to six weeks before you see signs of this regeneration and repair, although the process will continue to work over the following months, leaving you with natural, long lasting results.
Is the treatment right for me?
The device can be used on the face, neck and body and is effective on skin of all ages.
We will assess your suitability for treatment at your consultation and using our VISIA skin analysis technology.
Are there any side effects?
Immediately after the procedure you will look as though you have moderate sunburn and your skin may feel warmer and tighter than usual. This normally starts to subside after one to two hours and will return to normal within 24 to 36 hours.
We will also recommend suitable products to soothe and calm your skin as well as sun protection to further protect and enhance the rejuvenation process.
How does it work?
EDS creates thousands of micro medical needle columns into your skin, each one penetrating into the dermis layer. These columns will stimulate the skin, encouraging it to regenerate and repair itself. They'll then rapidly close so that your skin can quickly recover.
A topical anaesthetic is applied to ensure the treatment is comfortable throughout.
The treatment intensity can be accurately controlled throughout the procedure. This means that needle depth and speed can be adjusted depending on the area being treated and the particular condition of that area of skin.
To maximise your results, 3 procedures are recommended approximately 6 weeks apart.
Testimonials
We take pride in delivering the very best treatments to our patients and tailoring our approach to each individual. Here's what some of our patients have been saying about us:
"Since I've been using iS clinical my skin regime has completely changed. I have never known a skin product to benefit my skin in so many ways." Katie, 19, Beaconsfield
"I have had EndyMed 3DEEP Tightening and Contouring on my face and body. The results are incredible and my skin felt tighter and firmer straight away. Three days later my skin is soft and smooth. With such a sophisticated device, a programme of EndyMed 3DEEP is certainly worth it." Elouise 29, High Wycombe
"Beautiful clinic, run by extremely knowledgeable, professional, warm, friendly people. Incredibly relaxing, wonderful results – highly recommend Miss Sherina Balaratnam and her team." Jane, 40, Middlesex
"The EndyMed is such a fabulous treatment that I can't recommend enough. I walked out of the clinic not only glowing, but radiating from the inside out… it felt fabulous!" Annas, 39, Beaconsfield
"I would like to say a huge thank you to Sherina and her team for a wonderful experience – they truly are experts in their field." – Tracey, 36, Berkshire."
"I had the Fire and Ice treatment at the S-Thetics clinic. Just one treatment had improved the over all appearance of my skin and reduced my pigmentation, much to my delight." Gail, 54, Beaconsfield
"Sherina really listened to what I wanted to achieve from my treatments – so I opted for some facial fillers to lift and refresh my cheeks and eyes, as well as shaping my lips. Sherina made the whole process very easy and comfortable and I am absolutely delighted with the results. I couldn't recommend her highly enough."
Julia, 32, from Beaconsfield
"The Fire & Ice treatment is absolutely amazing and refreshing. I walked out of the S-Thetics clinic glowing and feeling fantastic and that was not the end… The result got even better the following day. My skin felt clear, clean and radiant." Theresa, 40, Gerrards Cross
"Thank you Miss Balaratnam for taking your time with me, and using your extraordinary knowledge and skills to help rejuvenate my face and my confidence. All I want is to look the best that I can for my age and I could not be more delighted." Carole Anne, 70, Wiltshire
"Sherina is one of the best skincare doctors I know! I highly recommend all that Sherina offers and she has the best bedside manner when working with patients also." Joanne Berry, San Diego
treatments
Click on the links below to find out more about the range of treatments available at S-Thetics.