Excessive Sweating (Hyperhidrosis)
Excessive sweating (or hyperhidrosis) is a chronic condition affecting over 1.5 million people in the UK. Sweat is produced to regulate body temperature, but hyperhidrosis sufferers produce an amount of sweat that far exceeds that needed for temperature regulation.
Body odour is often a problem due to mixture of sweat with bacteria and hair in the underarms, and clothing has visible stains due to the consistency of sweat secretions within the area. With over 2 million sweat glands in the body, the majority are found in the underarms, which is why we sweat more from here.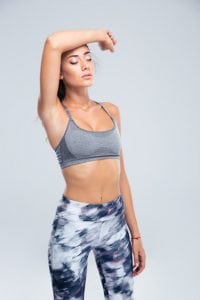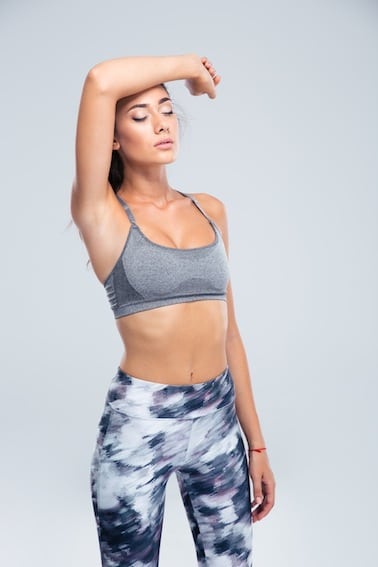 Our body is designed to sweat in order to help us regulate our core temperature, especially during periods of excessive heat, exercise and even during illness. When sweat evaporates, it removes excess heat from the body, and we cool down. Excessive sweating is not just an issue during the summer months and can affect people all year round.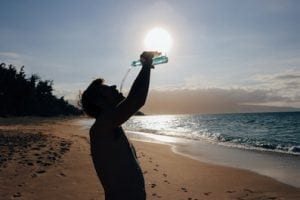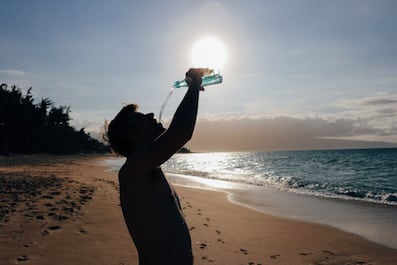 There are two main types:
Local Hyperhidrosis (limited to a specific area of the body), such as palms of the hands, armpits, on the face and feet

General Hyperhidrosis (the entire body is affected) usually caused by an underlying health condition such as an overactive thyroid gland.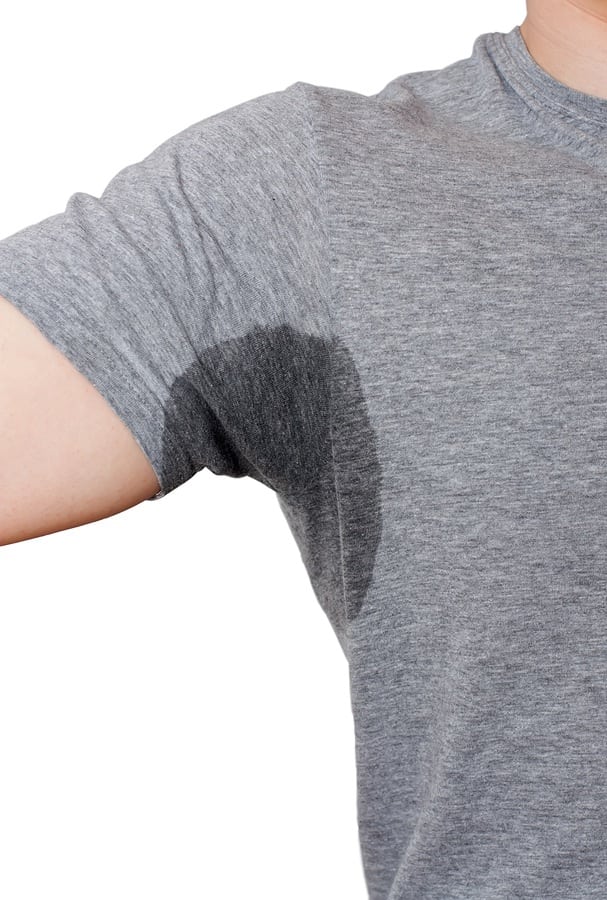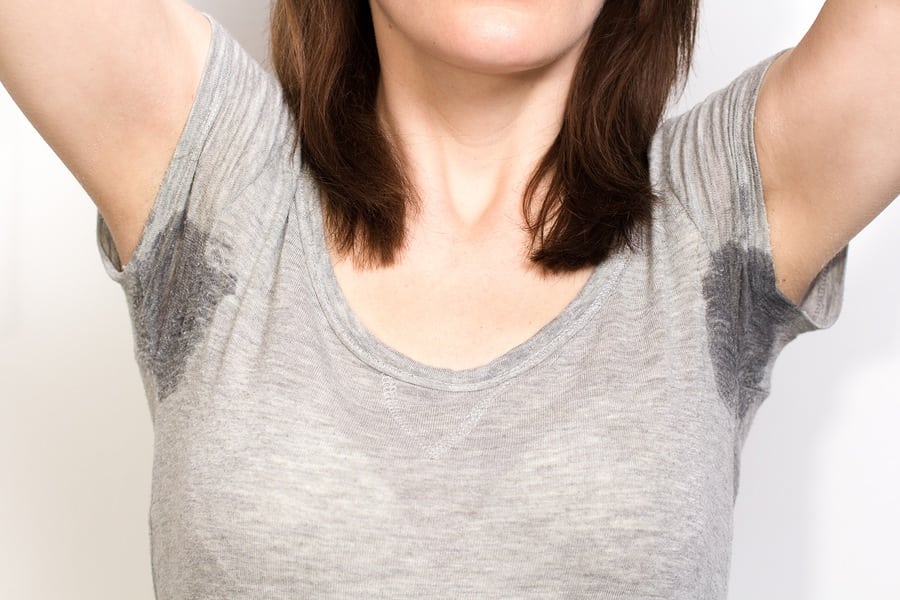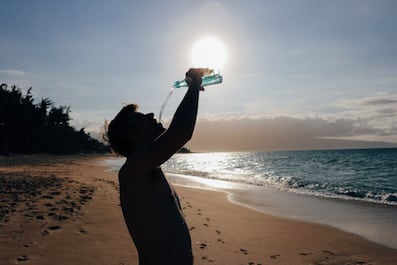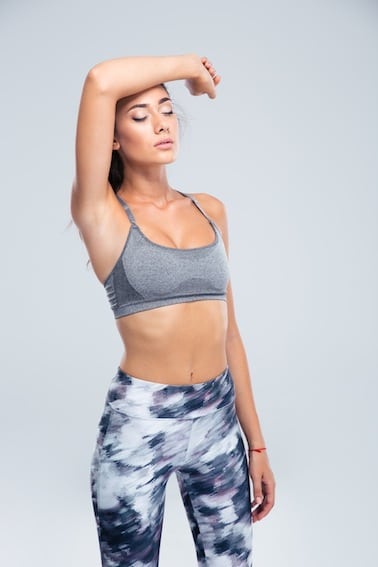 What Causes Hyperhidrosis?
Hyperhidrosis most frequently develops in adolescence or young adulthood (between 20–25 years), and affects both men and women equally.
The underlying cause is uncertain but genetics may play a role as two thirds of patients have a family history of the condition. It is thought hyperhidrosis may be exacerbated by stress, emotion or exercise, but all too often occurs spontaneously.
What treatments do you offer?
At S-Thetics, we treat underarm hyperhidrosis with injections of botulinum toxin into the affected areas.
Botulinum toxin is injected into the skin in small doses and works by blocking the signals from the brain to the sweat glands, in turn reducing the amount of sweat produced.
The effects last approximately 4–7 months on average, depending on the individual.
Are these treatments suitable for me?
This will be discussed in your consultation, but generally botulinum toxin injections can be used very effectively for people who are suffering from excessive sweating under their arms.
Are there any side effects?
As with any medical procedure, there is always a risk of unwanted side effects with botulinum toxin injections. Most side effects are normally short-lived and often relate to the injection procedure.
Following injection, there may be redness, slight swelling, or bruising around the injection area but these usually only last a few days.
For best results, avoid massaging the area that has been treated and avoid exercise and alcohol for 24 hours after treatment. Otherwise, you should be able to resume your usual activities straight away.
Testimonials
We take pride in delivering the very best treatments to our patients and tailoring our approach to each individual. Here's what some of our patients have been saying about us:
"Since I've been using iS clinical my skin regime has completely changed. I have never known a skin product to benefit my skin in so many ways." Katie, 19, Beaconsfield
"I have had EndyMed 3DEEP Tightening and Contouring on my face and body. The results are incredible and my skin felt tighter and firmer straight away. Three days later my skin is soft and smooth. With such a sophisticated device, a programme of EndyMed 3DEEP is certainly worth it." Elouise 29, High Wycombe
"Beautiful clinic, run by extremely knowledgeable, professional, warm, friendly people. Incredibly relaxing, wonderful results – highly recommend Miss Sherina Balaratnam and her team." Jane, 40, Middlesex
"The EndyMed is such a fabulous treatment that I can't recommend enough. I walked out of the clinic not only glowing, but radiating from the inside out… it felt fabulous!" Annas, 39, Beaconsfield
"I would like to say a huge thank you to Sherina and her team for a wonderful experience – they truly are experts in their field." – Tracey, 36, Berkshire."
"I had the Fire and Ice treatment at the S-Thetics clinic. Just one treatment had improved the over all appearance of my skin and reduced my pigmentation, much to my delight." Gail, 54, Beaconsfield
"Sherina really listened to what I wanted to achieve from my treatments – so I opted for some facial fillers to lift and refresh my cheeks and eyes, as well as shaping my lips. Sherina made the whole process very easy and comfortable and I am absolutely delighted with the results. I couldn't recommend her highly enough."
Julia, 32, from Beaconsfield
"The Fire & Ice treatment is absolutely amazing and refreshing. I walked out of the S-Thetics clinic glowing and feeling fantastic and that was not the end… The result got even better the following day. My skin felt clear, clean and radiant." Theresa, 40, Gerrards Cross
"Thank you Miss Balaratnam for taking your time with me, and using your extraordinary knowledge and skills to help rejuvenate my face and my confidence. All I want is to look the best that I can for my age and I could not be more delighted." Carole Anne, 70, Wiltshire
"Sherina is one of the best skincare doctors I know! I highly recommend all that Sherina offers and she has the best bedside manner when working with patients also." Joanne Berry, San Diego
treatments
Click on the links below to find out more about the range of treatments available at S-Thetics.