The next generation of regenerative skincare has arrived at S-Thetics Clinic.
1st Clinic Worldwide
We are excited to be the first clinic worldwide, outside the USA, to launch the new EXO|E Exosomes skincare to our patients.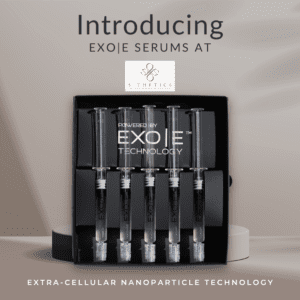 Unique 3-step Protocol
EXO|E Rejuvenation line is a complete and precisely formulated set of active organic plant stem cell secretory factors for use before, during and after your treatment.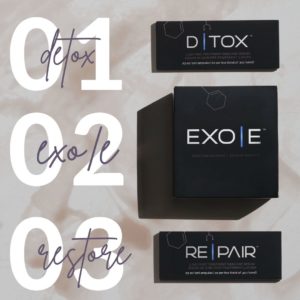 What are Exosomes?
Our Medical Director, Surgeon and Cosmetic Doctor Miss Sherina Balaratnam, had the pleasure of discussing this topic with Dr Rob King MD at the recent Wigmore Presents conference at the Royal College of Physicians.
Dr King is National Director of Biologics & Aesthetic Management Partners, the company responsible for developing and creating our new EXO|E products, with their headquarters in Tennessee.
As well as an extensive background in cosmetic research and product development, Dr King is also a general surgeon with 22 years of military leadership including running a team of 60 during active combat deployments.
How Does EXO|E Work?
It is an 11-day treatment protocol with 3 separate serum treatments:
Step 1 D|TOX
Carried out at home

D|TOX focuses on skin repair and detoxification. D|TOX increases intracellular exchange, improving skin hydration and stimulates hyaluronic acid production.

This helps prepare your body's ideal environment for the cell signalling processes it uses o fight inflammation and restore equilibrium

D|TOX is ideal for pre-procedure use to jump-start the skin repair process

Use twice daily for five days to hydrate the skin up to 10x for optimum treatment results
Step 2 EXO|E
Part of your in-clinic treatment
Is a concentrated loading dose of stem cell factors including Exosomes, liposomes, growth factors, anti-inflammatory factors, VegF and thousands of additional factors per application, leading to enhanced regenerative results

Enhances your overall experience during aesthetic procedures

Works synergistically with any in-clinic treatment such as micro needling, lasers, EMFACE and more, to optimise immediate and visible results pre and post-treatment
Step 3 RE|PAIR
Carried out at home
Reinforces the work of EXO|E with ten additional applications of Exosomes, liposomes and the full complement of stem cell factors found in the biological process of healing

Focused on reducing inflammation and healing time post aesthetic procedure

Use twice daily for 5 days post-treatment, enhancing comfort and shortening downtime
The Science and Research Behind EXOIE
Stem Cell Factors
Based on a proprietary system utilising biomimetic nanoparticles – Combining 20 times the amount of cell signaling versus similar products, introducing 15 billion extra-cellular nanoparticles, and additionally adding over 2,000 stem cell factors per application.
The EXO|E Rejuvenation system results in refreshed, rejuvenated skin, enhanced treatment results, and faster recovery.
How Do You Quantify The Number Of Exosomes?
https://youtu.be/cZMiIGheedI
Clinical studies have shown:
61% reduction in inflammation
165% increase in the expression of collagen production
891% increase in the expression of elastin production
198% increase in the secretion of hyaluronic acid
To find out how you could benefit from EXO|E treatment, please contact our team on: