We are excited to announce that S-Thetics Clinic in Beaconsfield are the 1st clinic in Europe to be trained on EMSculpt and have been selected as 1 of just 4 European launch clinics to introduce this ground-breaking new FDA approved technology directly from the US.
** (See below for details of S-Thetics unique EMSculpt launch promotion) **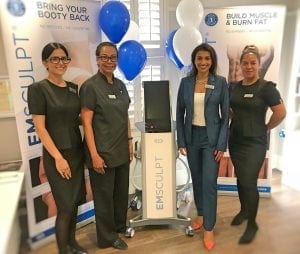 What is EMSculpt?
More than 30% of the human body is comprised of muscle, however existing non-surgical treatment options only address fat and skin.
EMSculpt is unique as it is not only about reducing fat, but is the world's first and only non-invasive procedure to simultaneously build muscle and burn fat.
In addition, EMSculpt creates the world´s first non-invasive butt-lift procedure
A single 30-minute treatment is equivalent to 20,000 sit ups or squats
The world's only device that simultaneously builds muscle and burns fat
19% average fat reduction and +16% average increase in muscle mass
No downtime, anesthetic or surgery
Which areas does it treat?
The abdominal area and the buttocks. One 30-minute treatment is equivalent to either 20,000 sit-ups or 20,000 squats.
How many treatments will I need?
Based on the clinical protocols, 4 treatments are required over a 2-week period. Your specific treatment plan will be discussed and agreed with you during your consultation.
How does it work?
EMSculpt uses High-Intensity Focused Electro-Magnetic (HIFEM®) technology to penetrate through the skin to impact muscle tissue.
As well as increasing muscle density and volume, this triggers a rapid metabolic reaction that safely and effectively destroys fat cells.
What does it feel like?
The procedure feels like an intensive workout. You can lay down and relax during your treatment.
Is it safe?
Yes, EMSculpt's unique HIFEM® technology is non-ionizing, non-radiating and non-thermal.
What are the results?
EMSculpt has been tested in 7 independent multi-center clinical studies in the USA using MRI, CT and Ultrasound scans.
EMSculpt delivered consistent, safe and reproducible results across both muscle increases and fat reduction, specifically: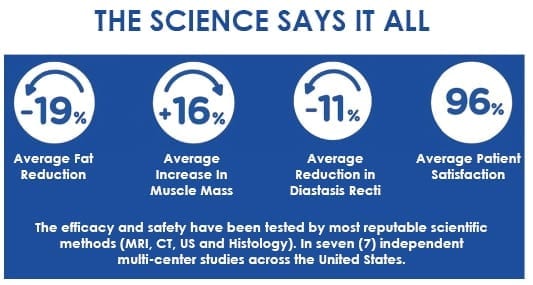 🗒 Note: Individual patient results may vary

** EMSculpt launch promotion **
To celebrate the introduction of EMSculpt, we are offering x4 30 minute treatments at a unique promotional offer.
This is the equivalent of 80,000 sit ups or squats (depending on the area treated) in just 2 hours of treatment time.
There are currently only 5 EMSculpt devices in the whole of Europe and we are delighted to house this innovative technology at S-Thetics Clinic.
Contact S-Thetics Clinic to reserve your EMSculpt consultation: